Yin Yoga & The voice with Annie Au and Kirbanu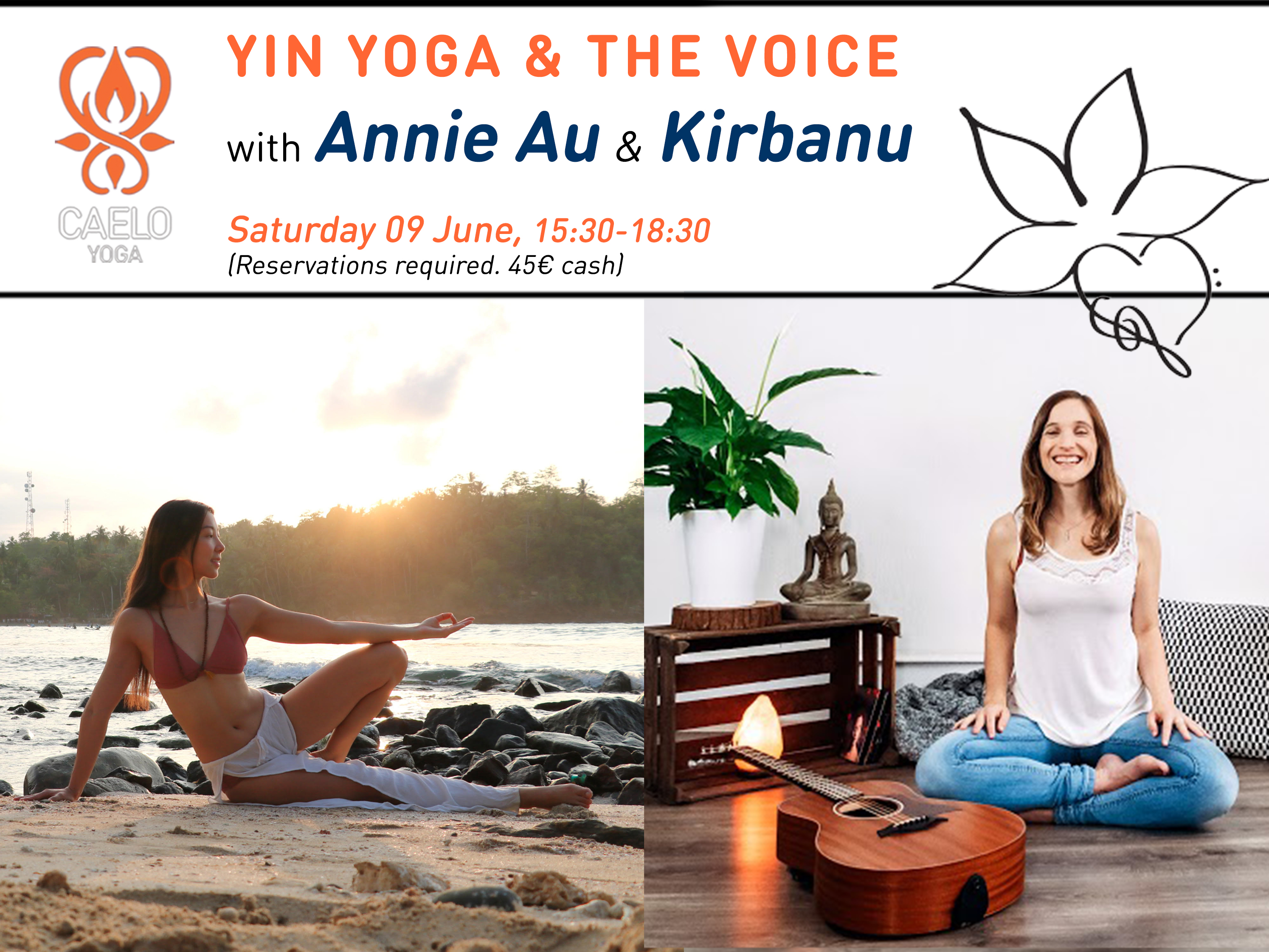 In this Yoga & The voice workshop we will explore the fundimental od Chinese meridians, yin yoga and the components of the voice for self-empowerment and self-expression.
Sunday 9 June 3.30 – 6.30 pm
Rate: 45 eur
Information & Reservation: contact@caeloyoga.com, 01 45 08 59 10. You can also reserve your space under Events via MB, Payment in studio only.
Yin yoga is a meditative practice that explores our inner soul. It is a practice of stillness and contemplation. As Yin yoga requires us to hold a posture for some time with ease, we learn to surrender to our inner voices and emotions. Our inner voice is a representation of the external voice we express into the world. The sounds we use, the quality of the vibration we share, our thoughts and feelings – all impact the physical expression of our voice.
Just like in an Asana, being in flow with our own unique voice involves understanding and moving in harmony with our body, breath, and the momentary dynamics of our inner world. It is this world that we perceive deeply through the practice of Yin.
In this Yin Yoga & The Voice workshop we will explore the fundamentals of Chinese meridians, yin yoga and the components of the voice for self-empowerment and self-expression. We will combine this soulful experience with mantra singing, incorporating what we learn through our time together into a final chanting circle that will heighten and enrich our self-healing process.
About the Facilitators
Annie Au
Based in Sri Lanka, Annie travels around the world including Mexico, France, Australia, Canada, Thailand and Bali teaching 200hr & 300hr yoga teacher training. With gratitude, Annie studies with Sri Dharma Mittra and has attended the 500hr and 800hr Life of a Yogi Teacher Training (LOAY) in New York City in 2015 and 2016. She offers an integrative Yin Yoga and Chinese Meridians teacher training infusing the ancient wisdom of Daoism, traditional Chinese medicine, and Yoga/Buddhist philosophy. Annie has certified over 200 yoga teachers worldwide. She holds a Bachelor Degree in Human Kinetics from the University of British Columbia, Canada. Specializes in yoga anatomy, Annie's approachable teaching method in yoga anatomy helps students to understanding better the human body and therefore practice more intelligently. Annie can lead a dynamic class filled with inversions with a duality of restorative and healing yin sequences. Currently Annie guest teaches at Exhale Yoga Retreats and All Yoga Thailand & Bali.
https://www.instagram.com/annie_au_yoga
Kirbanu
Kirbanu is an Australian voice empowerment coach, musician & mindfulness practitioner, based in Germany. She fuses vocal science with mindfulness techniques to teach people how to use their voices holistically and in
empowering ways. Having performed over 500 concerts in 5 years and taught vocal workshops worldwide,
Kirbanu understand the necessity of being able to express ourselves clearly, with confidence and in a way
that's in alignment with our mind and body. Her deep passion is to share practical tools & techniques with
you so you too can experience the joy and confidence a holistic connection with your own voice brings.
https://www.instagram.com/kirbanu
Listen to her music – Spotify, i­Tunes, Apple Music @kirbanu