The Two Faces of the Goddess with Polyxeni&Christina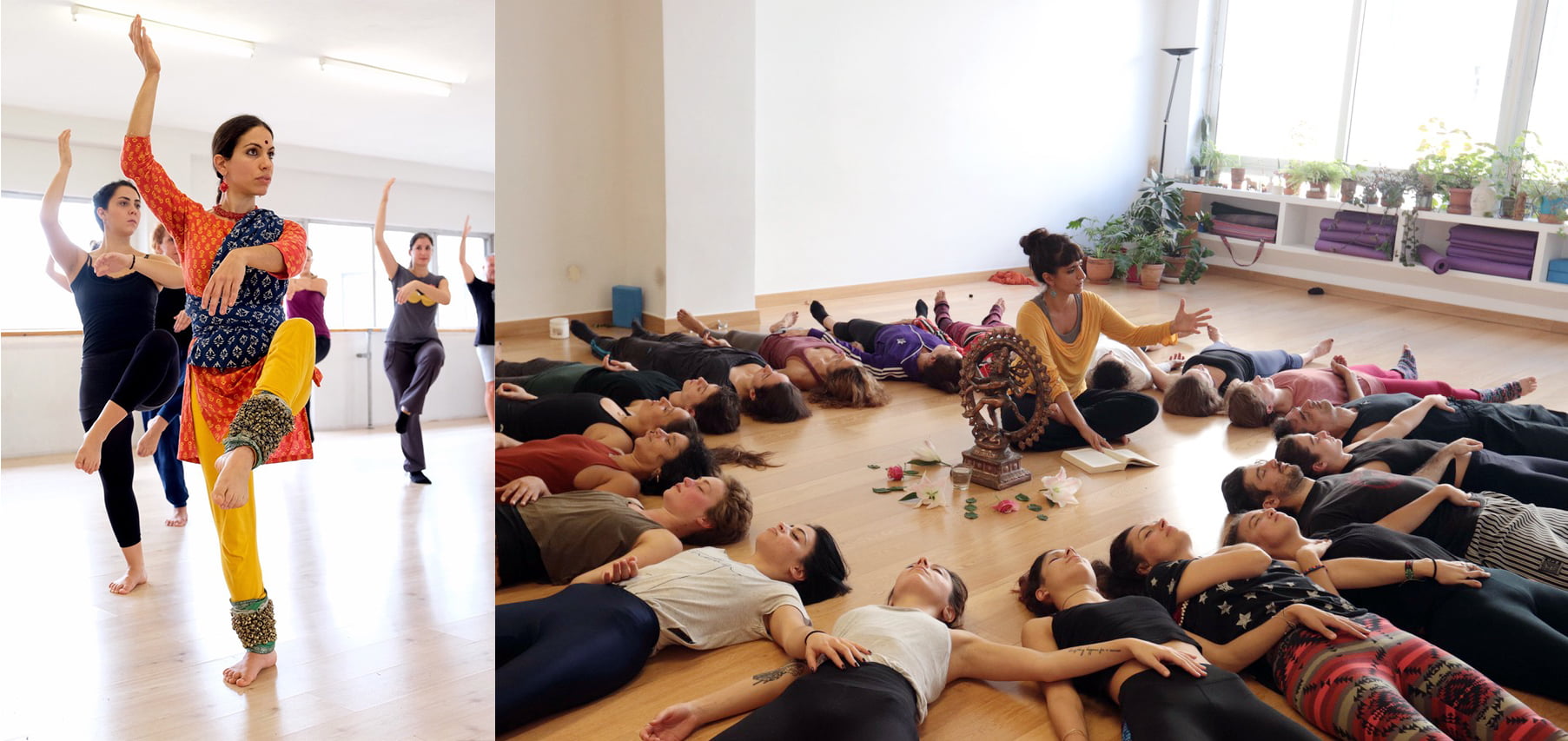 Join Polyxeni Aklidi and Christina Zanni, for an exploration of the two aspects of the Goddess in Hindu Mythology. That of the Mother, Gauri and that of the Destroyer, Kali.
The full workshop is over 2 days with each session lasting 3 hours. But you can also join just an individual session:
Saturday, 7 December, 14.00 – 17.00
Sunday, 8 December, 15.00 – 18.00
Single Session – 45€
Both Days – 70€ Booking available directly via MindBody. Questions – contact@caelyoga.com, 01 45 08 59 10
During this 2-day experience you will prepare the body-mind through a deep Jivamukti Yoga practice and narration of Hindu mythology embracing the feminine aspect in it's multiplicity of form and it's dual nature. Then you will delve into the rhythm of Ya Devi Mantra and it's Kathak choreography which is an invitation to the Goddess to present herself. The piece is danced in India on the first day of the Navaratri Festival which is observed in the honor of the Devine feminine.
The structure of for each of the days is a 90 minute Jivamukti yoga class, 30 minute Indian mythology presentation and discussion, 15 minutes Ya Devi Mantra Chanting, and 45 mintues Kathak Choreography and Mudras.
In the course of two days you will get to connect deeply with the Mudras and feel the Kathak Dance piece in a profound manner.
Polyxeni Aklidi's interest in yoga and meditation originated from her background in theatre, where she felt the innate wisdom within the body and called towards it. Still acting now based in Athens, has been certified a Jivamukti Yoga teacher also has studied extensively within various and diverse yoga traditions, collaborating with Swaha Yoga Centre Training Courses in Crete, Greece.
Over the past 13 years her two passions acting and yoga have gone hand in hand, complementing and contrasting each other intriguingly. She cherishes having the opportunity to share her yoga practice, combining asana, meditation, chanting, yogic philosophy, poetry and literature in order to inspire people to live with more awareness and love for themselves and other sentient beings.
She teaches Jivamukti Yoga in various studios & venues around Athens and abroad. Having travelled extensively from Brazil to India, to the States, England and Costa Rica she has had the opportunity to connect with great teachers as well as share her knowledge and inspiration along the way. She is ever so grateful to have spent time with Prem Baba in India, Rishikesh, Tyohar in Pachamama Costa Rica and with simple people who know the ways of nature in the forests of Central Brazil.
Christina Zanni comes from a background of acting and set design as well as the aerial acrobatics. Beginning her yoga journey nearly 20 years ago with Hatha and Ashtanga, under the guidance of her teacher Cliff Barber. She traveled to Mysore, South India, where she practiced Ashtanga yoga, at the Mysore Mandala Shala with V.Sheshandri. Following this attended circus schools Circo Criollo, Circo Arena and Club de Trapezistas in Buenos Aires, Argentina, where she learnt various disciplines of aerial acrobatics such as silks, trapeze, hoop and rope. In the following years she worked as an aerial acrobat in Greece, teaching and performing with the State Theater of Northern Greece and the Municipal Theater of Crete.
From 2010 to 2015, she lived mainly in India and Thailand, studying Thai Yoga Massage at Sunshine Massage School, Chiang Mai and classical indian dance Kathak, Ayurvedic Massage and practicing different traditions of the Buddhist Meditation Vipassana. In 2017 she completed her Ashtanga yoga teacher training, with David Swenson.
Christina has been living in Athens since 2015, teaching Ashtanga yoga, aerial yoga, aerial acrobatics and dance and offering treatments and workshops on Thai Yoga Massage.