The Art of Assists + Yoga Sutras of Patanjali – CET with Carol Issa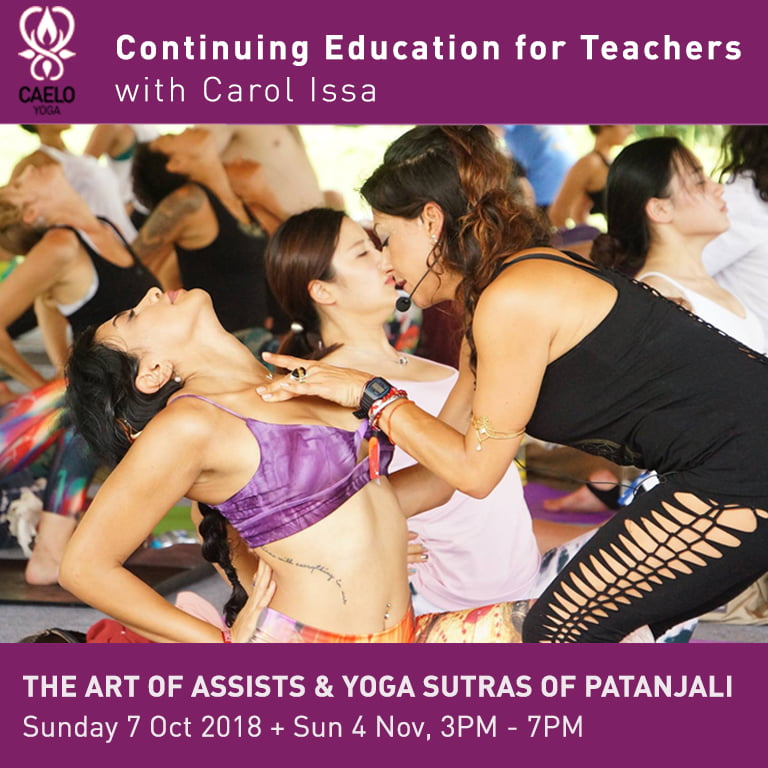 Paris Yoga Teachers, in October & November we will continue to dive deeper into this specially prepared program with parts 2 & 3 of – The "ART OF ASSISTS + YOGA SUTRAS OF PATANJALI.
Hands on assists and an ability to weave core teachings of yoga philosophy into your classes are both important ways to enhance your teaching skills and offer even more to your students in every class. Regardless of your current level of experience of assists or knowledge of the sutras as a teaching tool this intro workshop will provide you with valuable insights and immediately usable techniques to begin using right away. In each session 2.5 hours will be focused on the Art of Assists from both a physical and energetic perspective and the other 1.5 on exploring the Yoga Philosophy, beginning with the Yoga Sutras – a critical philosophical text for teachers, showing you how to draw valuable insights regarding the mastery of the mind to share with your students. The specific orientation of this program will provide you with a solid foundation to understand and be able to teach the insights of the book.
.
.
Take your first steps towards enhancing your teaching skills and deepening your knowledge of yoga philosophy this Fall by joining us for these next two sessions! No need to have attended Session 1. Open to all certified teachers or students currently enrolled in a teacher training program. 90€ per 4 hour session or, Special duo price 165€ .
CAROL ISSA
Carol Issa is both an advanced Jivamukti and Kundalini Yoga teacher, she was born and raised in Paris. Carol has launched Jivamukti Yoga in Paris and has the honor to serve as a mentor at the Jivamukti Teacher Training Program.