The Art of Assists with Carol Issa (part 3, final session)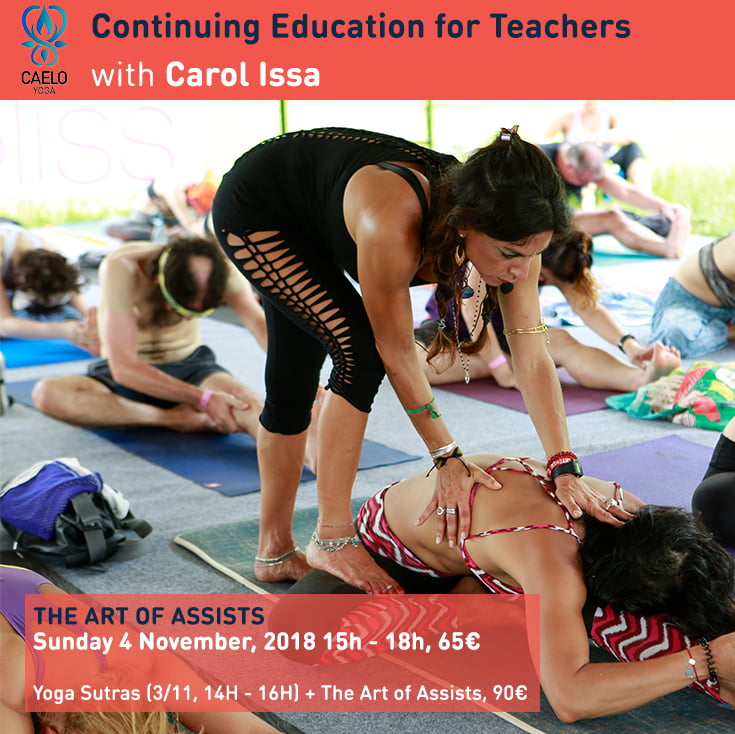 Paris Yoga Teachers, we will continue to dive deeper into this specially prepared program with this final 2 part workshop – The "ART OF ASSISTS + YOGA SUTRAS OF PATANJALI.
***NEW 2-DAY FORMAT***
THE ART OF ASSISTS, Sunday, 4/11, 15H – 18H
Hands on assists and an ability to weave core teachings of yoga philosophy into your classes are both important ways to enhance your teaching skills and offer even more to your students in every class. Regardless of your current level of experience of assists or knowledge of the sutras as a teaching tool this intro workshop will provide you with valuable insights and immediately usable techniques to begin using right away. In Sunday's session 3 full hours will be focused on the Art of Assists from both a physical and energetic perspective. 65€
You can attend either individual session (35€ Sutras workshop, 65€ Assists), or participate in the combined offering which includes Saturday + Sunday's 5 total hours of training – 90€ for both.
Saturday, 3/11, 14H – 16H, Patanjali's Yoga Sutras
This workshop will be exclusively focused on Yoga Philosophy, this final session continuing the exploration Patanjali's Yoga Sutras – a critical philosophical text for teachers, showing you how to draw valuable insights regarding the mastery of the mind to share with your students. There will a 90 minute presentation of key themes by Carol followed by a 30 minute interactive discussion and Q & A. The specific orientation of this program will provide you with a solid foundation to understand and be able to teach the insights of the book. 35€
Further your steps towards enhancing your teaching skills and deepening your knowledge of yoga philosophy this Fall by joining us for the final 2 sessions of this series. (More coming in 2019!!) Open to all certified teachers or students currently enrolled in a teacher training program.