Teacher Training: RYT 200 Vinyasa Flow with Kate, Bruno & Benoit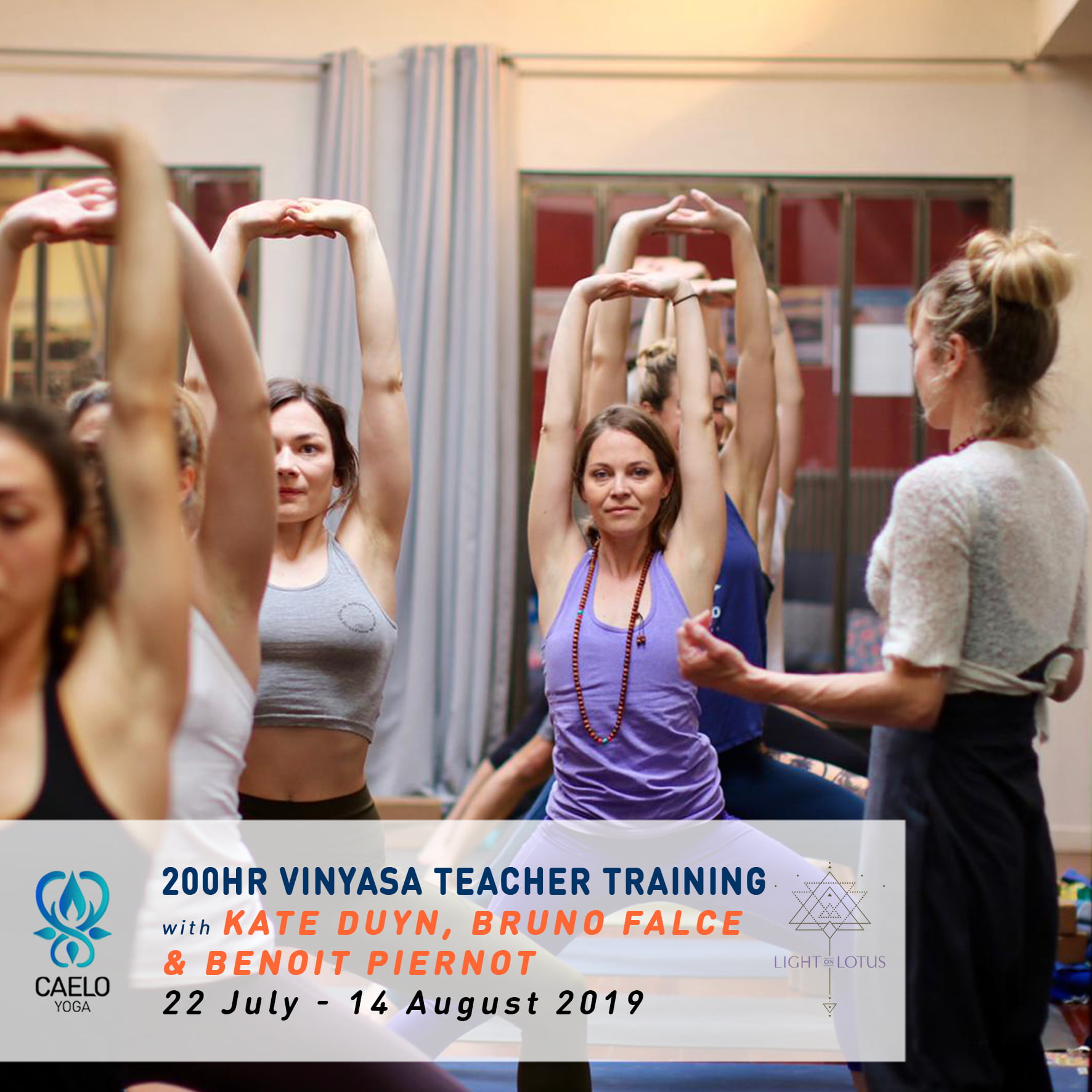 TEACHER TRAINING: RYT 200 VINYASA FLOW
KATE DUYN, BRUNO FALCE & BENOIT PIERNOT
22 July- 14 AUGUST 2019 (INTENSIVE)
ADDITIONAL FACILITATORS: Darko Milascevic (Anatomy & Physiology), Jennifer Ruiz Goupil (Business of Yoga), Speciality Masterclasses with the CAELO TEAM – Magdalena Lawniczek (Kundalini Yoga), David & Danielle Coulibaly (Partner and AcroYoga).
LOCATION: CAELO YOGA, 55 Rue Montmartre Paris 75002
FREE/STUDY DAYS: 27 July, 10 August and half day 3 August
Space is limited. Info: tt@caeloyoga.com, 01 45 08 59 10
Special launch price of 2700€ through 30 June.
Regular price 2900€
A deposit of 700€ is required to reserve your place.
COURSE DESCRIPTION:
This course presents a foundation in yoga principles with an emphasis on Vinyasa Flow. It is recommended that applicants have an established practice of minimum 2 years. Trainees are expected to maintain a daily practice during their training and it is highly recommended to establish a daily practice at least one month prior to the training start date. Registered participants will receive a CAELO YOGA 1 Month unlimited yoga pass valid for the month of July as part of their inscription.
The course will include the following general areas of study:
Yoga Asana
Anatomy and Physiology
Subtle Anatomy
Yoga Psychology
8 Limbs of Yoga, Ethics & Lifestyle
Teaching Methods and Techniques
Pranayama and Meditation
Sanskrit, Mantra, Nada Yoga
The Business of Yoga
Practicum – *Opportunity to teach Community classes at CAELO during training
Beyond offering the highest quality of teaching certification with an extremely rich curriculum that reflects the values of CAELO YOGA, we also aim through this training to create compassionate community builders and leaders. The main emphasis of this training will be on the principle approach and style of Vinyasa Flow. It will provide trainees with a Yoga Alliance RYT 200 Hour Certification in Vinyasa Yoga. Whereas the main focus is on teaching, sequencing and class theming for Vinyasa yoga, additional less extensive training will be included in Restorative, Prenatal and yoga for special populations.
Through our rich and varied curriculum, and the support and guidance of our expert international team of 3 lead teachers and highly qualified support faculty, we will ensure that our graduates have all of the essential tools to provide the highest quality of teaching that also connects to their own individuality. The programme is designed to be sure that each trainee find their true expression and develops their unique skills to the fullest; becoming the best version of themselves.
This course will take you beyond the visible knowledge of your yoga practice, exploring the full embodiment of all of the expressions of life force energy from gross to subtle. Physical asana work, paired with anatomical principles, biomechanics and energetic alignment, ensures a multi dimensional overview of each asana through the eyes of the physical, mental, and emotional body. Pranayama and meditation techniques, as well as the use of other supportive tools mantra, mudra, foundations in sanskrit, and nada yoga, ensure that students will be able to teach a well rounded, balanced, spiritually grounded and effective class.
Whether you aim to teach, or simply to deepen your own understanding and practice, our aim is to support you in connecting to your Self, to your own heart and truth so that you in turn may support others whether, family, friends or future students. Written in our mission from the beginning, we believe in the power of yoga to bring about transformation and healing on both an individual and collective level, to connect souls and uplift the societies and world in which we live.
OUR CURRICULUM WILL INCLUDE:
History of Yoga
Yoga Philosophy
Asana & Alignment
Anatomy & Physiology
Sanskrit
Mantra & Mudra
Pranayama & Meditation
Nada Yoga & Chanting
Chakras & Subtle Anatomy
Hands on Assists
Vinyasa Krama & The Art of Sequencing
Yoga Ethics & Lifestyle
Yoga Psychology
Business of Yoga
Discover Your Voice
Define Your Teacher Style
Practice Teaching
Restorative
Prenatal & Special Populations
COURSE OBJECTIVES:
Trainees will:
Learn and become knowledgeable about the history and philosophy of yoga particularly the Yoga Sutras of Patanjali, The Bhagavad Gita, the Hatha Yoga Pradipika.
Become knowledgeable in the style of Vinyasa Flow
Understand the human body, both in the physical and the energetic level
Learn the correct alignments of each asana
Understand frequent injuries and how to deal with them
Understand the methodology of teaching Yoga
Understand the methodology of sequencing a Yoga class
Learn the art of observation and safe adjustment in asana
Learn basic Sanskrit sufficiently to run a class and acquire foundational knowledge of the alphabet, key words and pronunciation
Be able to incorporate mantra and the basic principles of Nada yoga
Be able to teach led classes based on Vinyasa krama in a safe, creative and inspired way
Be able to teach led meditation and pranayama techniques
Become knowledgeable on the basic skills in business and marketing management
Be able to teach themed classes or workshops
Have the opportunity to learn from top class international teachers of their kind
Meet the community of domestic and international teachers
Have constant support for what they might need from the CAELO team
Note: Reading list and recommendations for program preparation will be provided upon receipt of application (sent upon return of interest in the program)
SAMPLE SCHEDULE:
08:30 – 09:00 Meditation
09:00 – 10:30 Practice
10:30 – 12:30 Lecture/Practical Sessions
12:30 – 14:30 Lunch & Study Break
14:30 – 17:30 Lecture/Practical Sessions
17:30 – 18:30 Practice
18:30 – 20:00 Break
20:00 – 21:30 Evening lecture/Group Practice/Partner Work
Free Days: 27 July, 10 August and half day 3 August (2 Free Saturdays will be given, dates will be confirmed before program start).
CANCELATION POLICY:
If you find yourself unable to attend our training, please let us know as soon as possible. Cancellations 30 or more days prior to the training, receive a full refund.
Cancellations 8-29 days prior the training will receive a full refund minus a 500€ late cancellation fee. No refunds are available for cancellations within 7 days of the start of the event.
Please contact Teacher Training Admissions at tt@caeloyoga.com or call 01 45 08 59 10 to initiate a cancellation. Please note that any applicable refunds can take up to 30-days to process.