Shakti Prana Vinyasa, SACRED CIRCLE, with Anne Francin – January 2019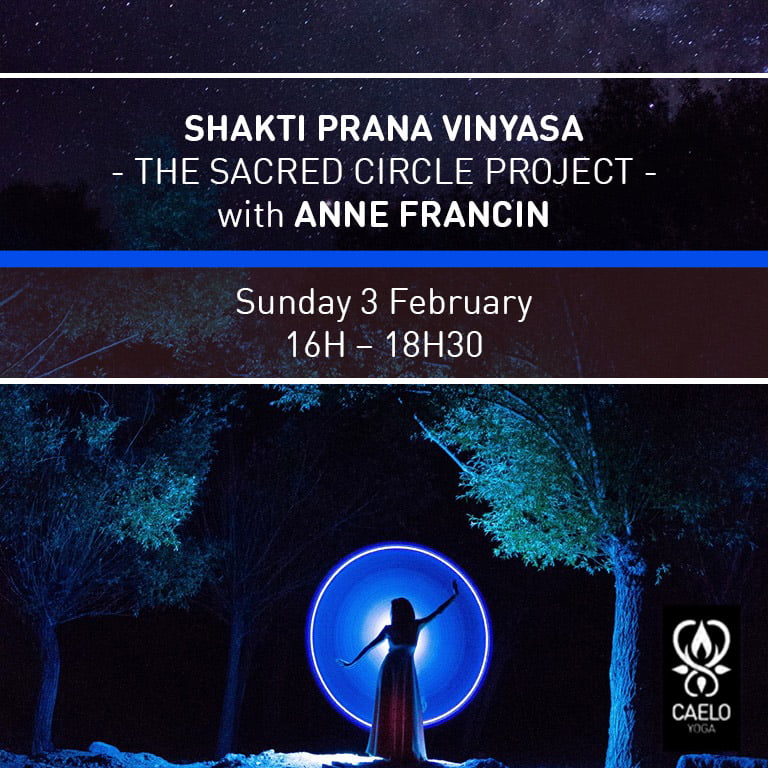 Shakti Prana Vinyasa – the sacred circle project – with Anne Francin
FEBRUARY 2019 Theme :'Creating safe space and healthy boundaries'
Cet atelier est un rendez-vous mensuel de 2h30 pour nous rassembler en un cercle de femmes et partager une pratique de Shakti Prana Vinyasa, dédiée au Féminin Sacré et à l'activation de la puissance de l'énergie féminine. Au-delà de la pratique, nous permettrons l'écoute de chacune dans la confiance, nous laissons la place à un temps d'introspection et d'écriture, nous chanterons, nous danserons, nous méditerons…
L'objectif est d'expérimenter la communauté et la sororité comme étant des clés pour nous aider à éveiller notre connexion au Féminin Sacré, et des vecteurs "d'empowerment".
Dédié à toutes les femmes qui souhaitent :
. explorer la puissance de la pratique du yoga au sein d'une communauté de femmes
. incarner les pratiques cycliques pour prendre soin de notre santé physique, émotionnelle et spirituelle, cultiver la force vitale et être en harmonie avec les rythmes naturels
In this monthly 2,5 hours class, we will come together in a circle of women to share a Shakti Prana Vinyasa, a practice dedicated to Sacred Feminine and women empowerment. Beyond the practice, we will also allow time to listen to each other in trust, we will make space for introspective time and journaling, we will sing, we will dance…
The aim is to acknowledge how community and sorority are keys to help women awaken the living connection of the Sacred Feminine and the change that continues to deepen through the loving and transformative process.
Open to all women to:
. explore the power of yoga practice in a community of sisters
. embody the cyclical practices that cultivate women's physical, emotional and spiritual health to cultivate your life force and align with natural rhythms