Jivamukti Masterclass with Yogeswari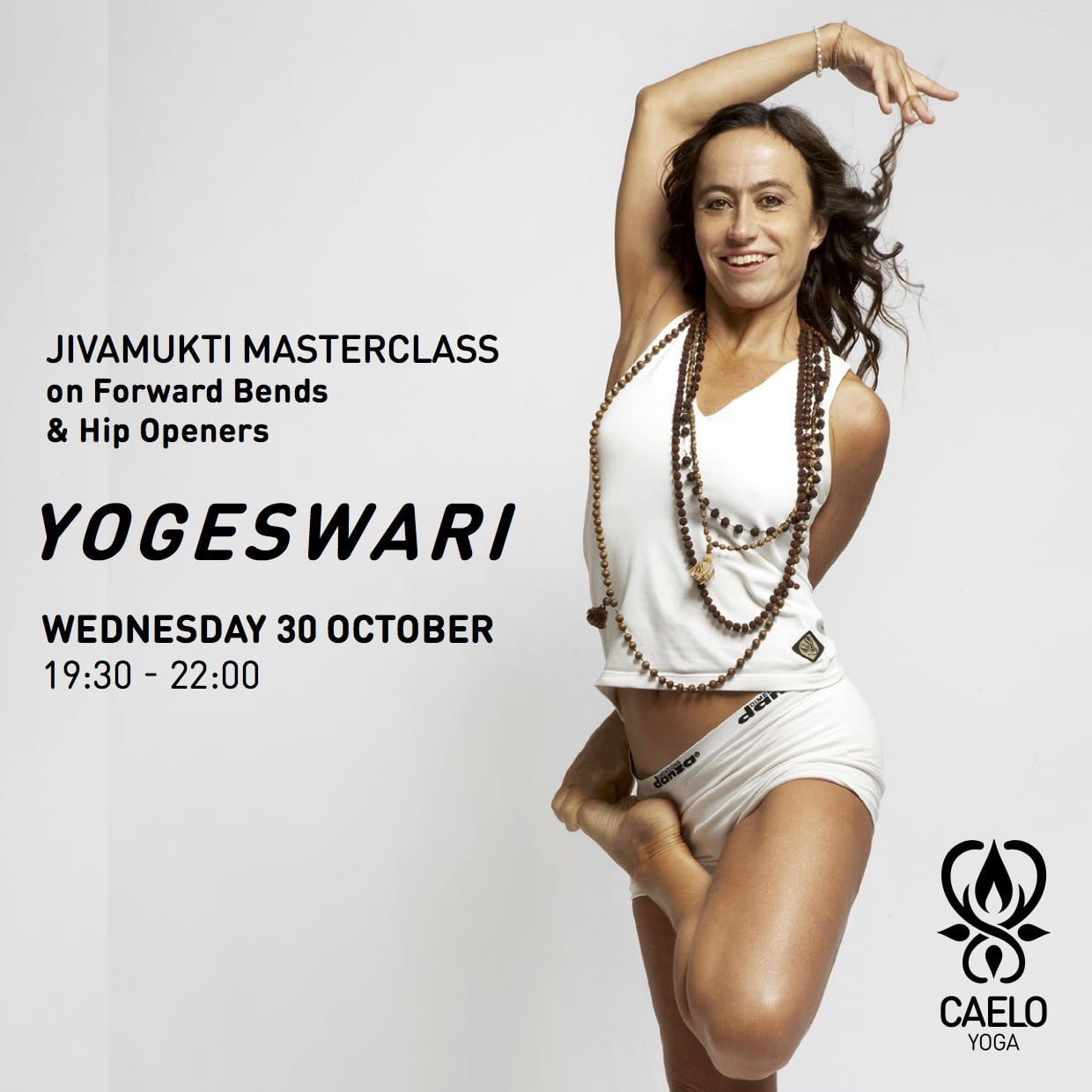 Join Yogeswari, one of the most senior teachers in the Jivamukti method for Forward Bends and Hip Openers Master Class! Immerse yourself in a dance-like Vinyasa Practice, accompanied by Hip Indian beats, World Music and Sanskrit mantras. A specific Asana focus leads the practice, to challenge you physically and mentally, concluding with a deep relaxation and meditation practice. The spiritual teachings, woven throughout the class, are inspired by the current Jivamukti Focus of the Month. They reveal a strong relationship between ancient Yogic teachings, what is happening in the present moment on the mat, and concerns pertaining to relationships and experiences in modern, daily life.
Hip Openers allow us to cleanse relationships that keep us in an obsessive and unstable place, so that we can allow the energy to move into higher levels of consciousness. Focus is on mobility in the hip joint, as well as working length with breath in forward bends. Spiritual teachings will be drawn from the Jivamukti Focus of the Month.
Forwardbends open the backside of the body, where memories of past experiences are lodged. Forwardbends afford us the opportunity to take a deep look into how our past has created our present reality and personality. Wie not only learn how to let go of uncomfortable feelings and tension, but also how to integrate positive experiences into the development of our character. Karma ist he law of cause and effect. When we force ourselves to touch our toes, with only superficial understanding of what we are doing, we eventually will hurt ourselves.
However, if we use the breath as a guide, and infuse it with love and mindfulness, we open ourselves to letting go of accumulated tension, both physically and mentally, and open the door to a remaking of our body and psyche.
Price: 45€ Booking via MindBody
YOGESWARI
Yogeswari, based at the Jivamukti Yoga School in New York City since the year 2000, is a world-renowned Jivamukti Yoga teacher and is one of the most senior teachers in the method. Yogeswari is featured as one of the 100 most influential Yoga teachers in the US by Sonima. She is Advanced Certified, a Facilitator of Jivamukti Teacher Trainings, and has taken many Jivamukti Certified Teachers through one-on-one apprenticeships towards their 800-hour-certification. Since 2004, she has been teaching around the world. Yogeswari is known for her vigorous, seamless Vinyasa sequencing, and her thought-provoking philosophical teachings. With 20 years of experience in dance and choreography, she brings liveliness and vibrancy to all her work. She holds an MA in choreography and dance from New York University and a BFA McL in dance from Temple University, Philadelphia. Born in Switzerland, she teaches workshops, immersions, and retreats in five languages.
She is the founder and president of AZAHAR Foundation, an international non-profit organization that promotes cross-cultural understanding and non-violent conflict resolution through Yoga and the Arts, with special attention to disenfranchised communities, and women and children in conflict settings.