Bhakti XL, Special Edition: LET GO – with Klara & Luis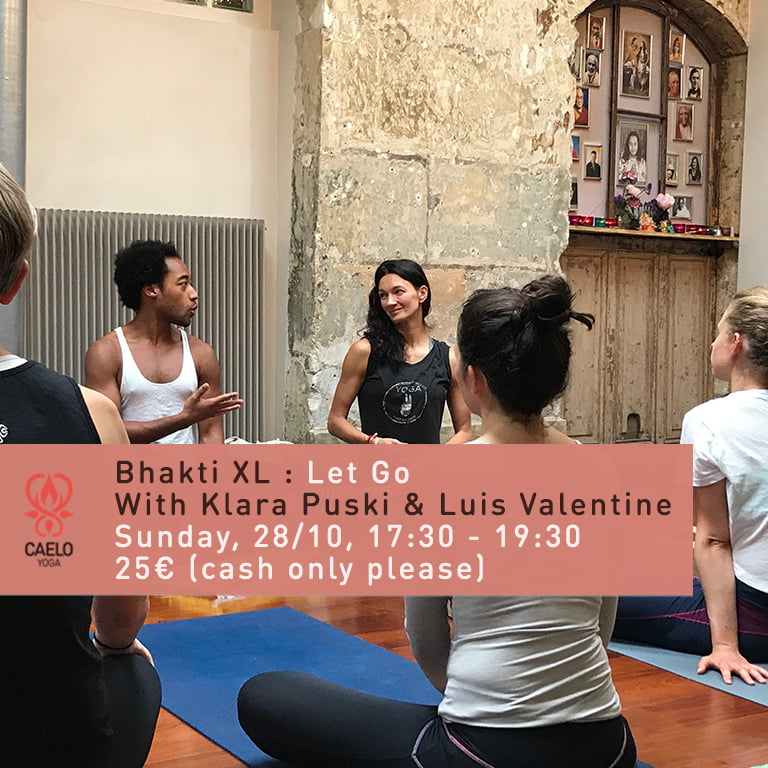 « Just as you cannot "do yoga", you cannot "do meditation." Yoga is the natural state of union with the divine source, happiness itself. What we can do are practices, which may reveal to us our resistance to that natural state. The practices of meditation, like the practices of yoga, are practices of letting go; letting go of tendencies and obscurations to the cosmic state of awareness, limitless joy. Meditation is one of the primary practices that allow us to let go. » ✨🌹~ Sharon Gannon
.
When we hold on to the past, we miss out of the joy of the present moment. Past experiences can be held; trapped in the body in the form of tightness, tension, perhaps even soreness or pain…
.
To LET-GO is to create space for the new. When we LET- GO of past hurts, past disappointments, negative thoughts and emotions we are more able to move forward with a sense of joy and ease. .
We are so excited to announce the Return of CAELO's signature Bhakti XL with this Special Édition that will be co-taught by the incredible team of Klara Klara Püski & Luis Luis Valentine Yoga !! ✨💖😍💙✨Next Sunday, 28/10, 17:30 – 19:30. Expect an extended Jivamukti practice including vinyasa, mantra, kriya and meditation all focused on helping us to LET- GO. (25€) Réservations via MindBody.