Equinox Sound Medicine Journey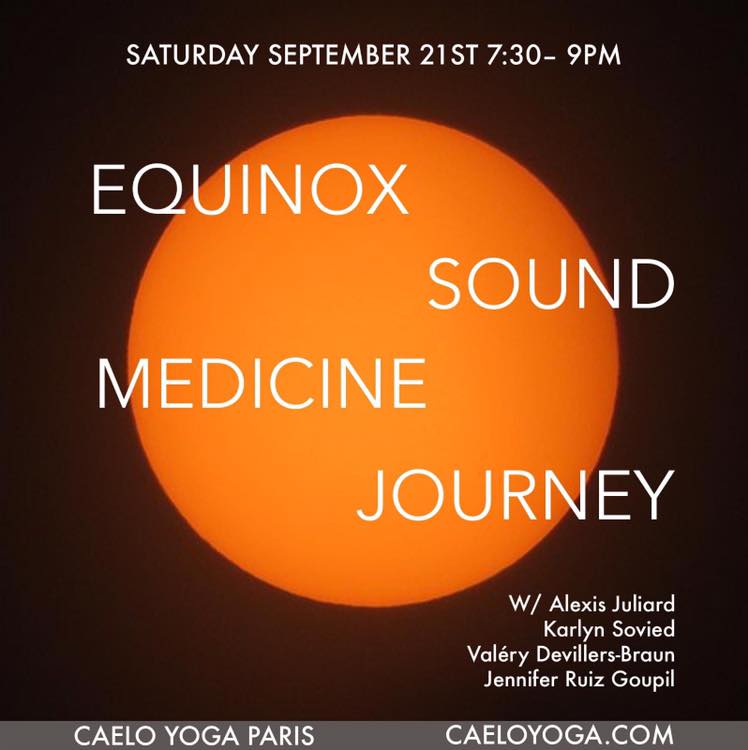 Come and join us for a Fall Equinox Gong Bath & Sound Healing Journey!
For the Fall Equinox,
When the Sun crosses the celestial equator from North to South,
When the Day is as long as the Night,
Showering radiance on our shadows and lights…
As the new season begins, come and join us at CAELO by embarking on a journey within. to experience an incredible journey through sound at guided by dozens of vibrational therapeutic instruments including gongs, tibetan singing bowls, flutes, tuning forks and many more.
Either laying down, or seated, you will experience deep states of relaxation and release. A sacred space will be created for your mind to let go and your body to relax.
The sound of voices and instruments will speak directly to your cells and open new perspectives as you travel through your inner world. With love and kindness you will connect to your soul vibration and feel your truth.
With Karlyn Sovied, Alexis Juliard, Valery Devliiers Braun, Jennifer Ruiz, Jan Pham Huu Tri
Saturday, 21/06, 19:30 – 21:00
Price: 35€ cash only please. Réservations via MindBody.
KARLYN SOVIED
Sound therapist, composer and performance artist, Karlyn Sovied spent several years travelling in Asia to meet spiritual masters who teached her sacred music intruments (gong, tibetan bowls, sitar, flute, jelly harp…) and sacred chant techniques (mantras, tibetan overtone singing…).
She was trained to sound therapy and studied its scientific and spiritual aspects.
During her journey to the Indonesian and Philippine jungle, she has met several shamans who initiated her to ancient healing techniques and to transe and divination.
ALEXIS JULIARD
Singer, songwriter, entertainer, yoga instructor and sono-musico-therapeute, après 10 ans passés dans la musique aux Etat-Unis, Alexis Alexis découvre la pratique du yoga à Brooklyn. Il étudie auprès de professeurs confirmés à Los Angeles, San Diego et Phoenix. Et se perfectionne en Chine et en Thaïlande. En voyageant aux quatre coins de la planète, Alexis a ramené de l'exotisme et de l'ouverture à la Sonotherapie ainsi qu'à lapratique du Yoga.