ADVANCED VINYASA KRAMA (Sequencing) 15HR Teacher Training with Kate Duyn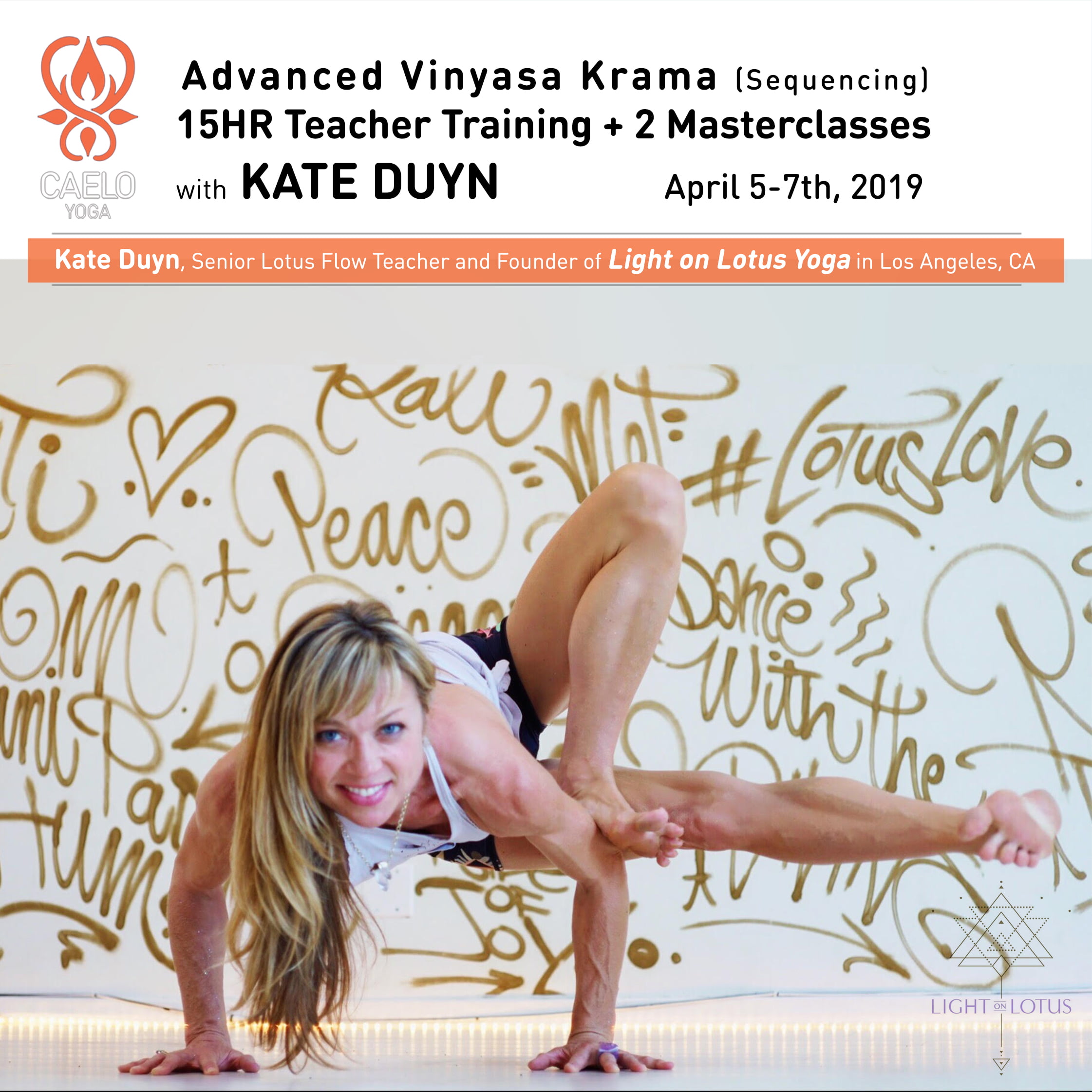 ADVANCED VINYASA KRAMA (Sequencing) 15HR Teacher Training with KATE DUYN, Senior Lotus Flow Teacher and founder of Light on Lotus Yoga in Los Angeles, CA. http://www.lightonlotus.com/
Learn to craft your sequences in a creative and masterful way to help you share memorable and transformative experiences through both your asana and spiritual practices. Kate Duyn, founder of Light On Lotus Yoga in LA, is bringing this advanced sequencing module to yoga instructors who have a strong desire to take their teaching to the next level.
Drawing upon the ancient tradition of "Vinyasa Krama", a step by step process, adding a fresh and contemporary perspective to inspire and sharpen the teacher's toolbox. This 15-hour module is designed for yogis who have completed their 200Hr certification.
KATE DUYN
Yogini, teacher, trainee and mentor, Kate Duyn Cariati has dedicated over 15 years to her practice and profession.
Since relocating to LA in 2009, she has taught at over ten different studios and gyms in the area and led 200 Hour Teacher Trainings for Pure Yoga at Equinox, Goda Yoga, and Yogis Anonymous with Ally Hamilton.
Kate founded Light on Lotus to offer up an alternative approach to the predominant styles of yoga found in Southern, CA. She leads annual Teacher Trainings, specialized workshops, retreats, and has been streaming online since 2010 on yogisanonymous.com. Her classes are known for their creative but intelligent sequencing, free flow acro-athleticism and soulfulness. She has a knack for guiding students to new depths while maintaining a sense of humor. Kate seamlessly weaves yoga philosophy, mantra, pranayama, meditation and movement into a rich and heartfelt experience in which she sets out to circulate as much joy through the body as possible.
She bows deeply to the great lineage of teachers that have come before her on this path and to Laughing Lotus co-founders Dana Trixie Flynn and Jasmine Tarkeshi. Originally from Portland, Oregon, she has lived and taught in New York, San Francisco, and currently resides in Mar Vista in LA, CA.
TRAINING TIMES:
Friday, 05/04, 10h – 12h30 & 14h – 17h
Saturday, 06/04, 14h – 18h
Sunday, 07/04, 13:30 – 15:30 & 16h – 19h
PRICE: Early Bird, 250€ (by 15/03), Reg. 275€
This price includes the "Vishnu Variations" Masterclass on Sunday.
Please complete your registration via MB and we will send you a link for payment. Space is limited and your enrollment is confirmed only once your payment has been received. Merci!